Trail Running
...before I knew it, I'd been running for half a decade! It started as a way to stay fit and busy during the long winter months when got dark early and I felt cooped-up at home. My first season, I signed up for the Pikes Peak Ascent with mountaineering and running friends Chris and Peter. Training commenced and I fell in love with the idea that you can move very quickly in the mountains with minimal gear and see a lot more terrain than you can hiking in the same amount of time.
I've had all sorts of adventures and accumulated a lot of like-minded friends along the way. I've discovered the thrill of racing even though I know I don't have a prayer of winning anything, ever. Naturally, one thing lead to another and I find myself entering ultra-marathons, planning mountain runs, and other "that's crazy!" adventures. Boulder being what it is, I've had the opportunity to run with, and learn from, some of the best runners in the world. Many thanks to my running buddies, famous and not, for keeping me in or near the groove.
Current Stats
(Of course I keep careful, obsessive track of all my running stats using custom-written IDL software. Don't you?)
The top panel tracks individual runs (dots), color coded by year, with races and and other significant events marked. The lines track seven day rolling total (moving weekly total miles).
The middle panel shows smoothed 30-day totals (monthly mileage, smoothed to take out the short-term ripples). Races stand out in this as a double-peaked maxima (the dip between peaks is the pre-race taper, typically 1-2 weeks). The dashed lines show rolling yearly totals.
In the bottom panel, I track cumulative yearly mileage. Dashed diagonal lines are goal lines for different total distances.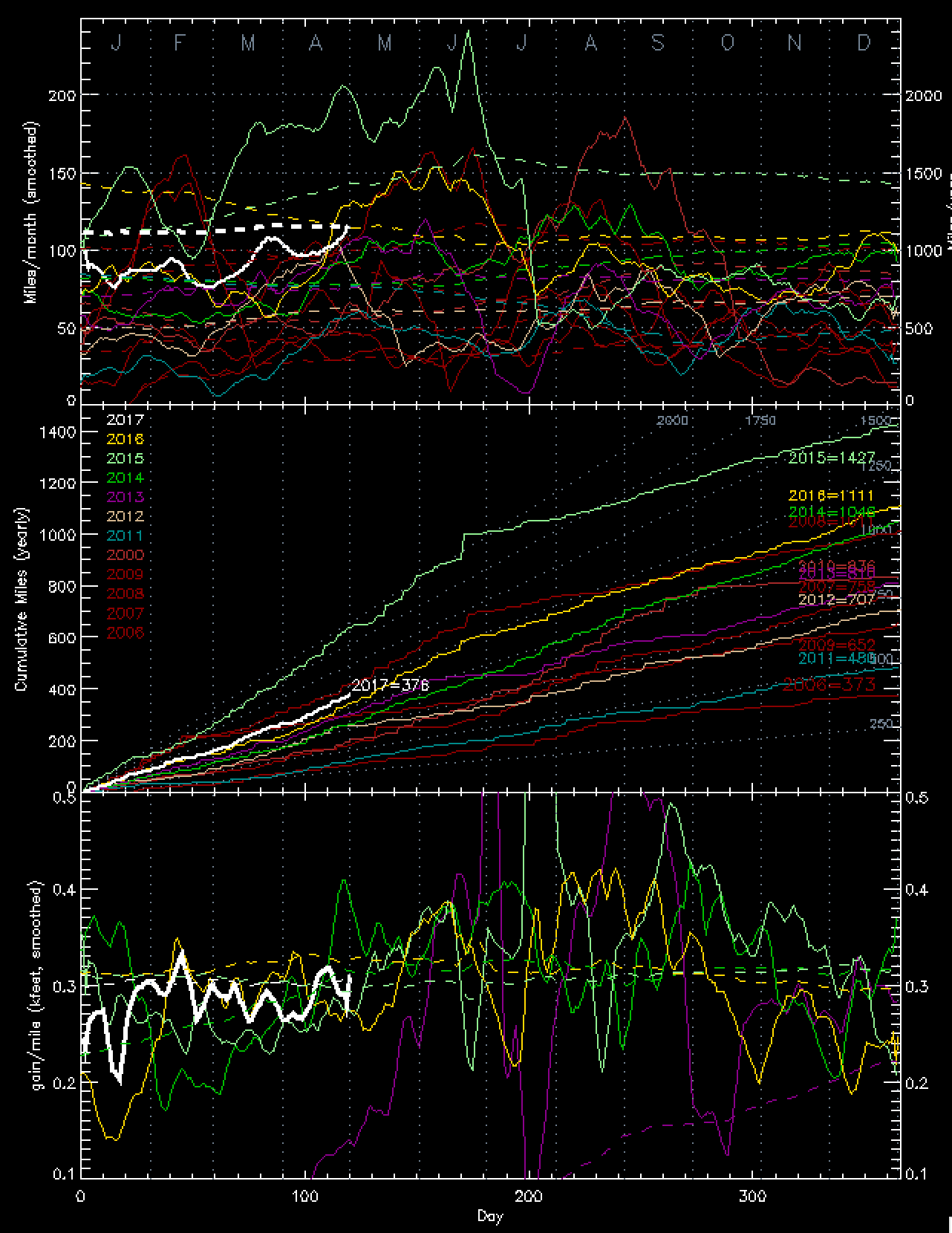 (click for full-resolution)
Notable Runs & Races
2010
2009
2008
2007
2006
Upcoming
I'm not obsessive, but it's always nice to have something on the horizon. Here's what's planned and some other possibilities:
Run Rabbit Run (aka Steamboat 50-miler), September 18, 2010. Looks like a nice run through the fall colors in a part of the state I've never visited. And it will keep me motivated through the summer to train!
Distant Future
There are a few things I'd like to do, but haven't any set time-line:
Imogene Pass Run (September), a fun-looking, uber-popular race: 17 miles up and over a pass from Ouray to Telluride in SW Colorado.
Moab Alpine to Slickrock 50 miler (September) Looks like fun and the timing is about right.
A Hundred?
People always want to know if I'm going to run a 100 eventually. "Eventually" is a long time, but I have no plans or desires to run that distance. 50 miles requires a level of training which precludes most other fun, so I can't really fathom what training for a hundred would be like. I've also found that, after about 12 hours on a course, I'm well and truly ready to be finished. But, then again, I thought running up Pikes Peak was crazy once, too.
---
Charles Danforth Last modified: Sun Oct 17 20:54:22 MDT 2010