---
CO Lungs, NH Mountains
Running the Mahoosuc Range, New Hampshire
September 22
I spent the first two decades of my life in the in-retrospect-amazing mountains of northern New Hampshire. I hiked all around and through the Presidentials, the Carter-Moriah Range, and right out the back door of my parents' farm, the wild Mahoosuc Range. Sure, they're not as big and pointy as the my current neighborhood, but they are still rugged, mysterious, and more than a little nostalgic. I've only been doing bone fide trail running for a couple years now and I hadn't been back to NH during the summer until this year. The foliage (best in the world) was just hitting it's stride, the trails were clear of snow, I was feeling fiesty and nostalgic for my old neighborhood, and I was several thousand feet below my normal operating altitude. Let's see what a Colorado-trained trail runner can do in the White Mountains!


The always-lovely Gentian Pond with the foliage just starting to turn.
It turns out that aerobic fitness wasn't my limiting factor. Lungs accustomed to running at a mile of elevation definitely helped and I cruised up the familiar woods roads and trails to the lovely Gentian Pond (3.5 miles, 1200') in an unprecedented 50 minutes. From there, I headed "south" (west, really) on the Appalachian Trail and got reminded about the difference between eastern and western trails. Most trails out west are graded for stock and tend to be pretty gentle climbs. Most New England trails don't bother with things like switchbacks and simply follow the shortest path from A to B, often over roots, rocks, and ridiculous (though short) grades.
The exertion was no problem and I was feeling great! But the trail was so technical that running would risk a spectacular crash. Instead, I power-hiked the trail around Gentian Pond, up to Upper Gentian, then the long, rocky trail over to Dream Lake with its two trails back down into the valley. Parts were runable, but mostly it was a spirited hike. Already I was behind schedule and was running out of supplies (I'd only brought a liter of water and a pair of energy gels), but it was so nice to be up here that I pressed on committing to another half-dozen miles of trail.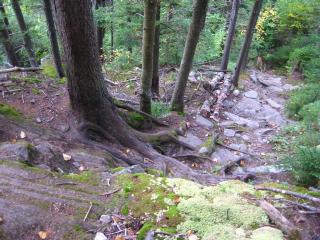 Switchbacks? We don't need no steenking switch backs. Trying to run down this would be insane.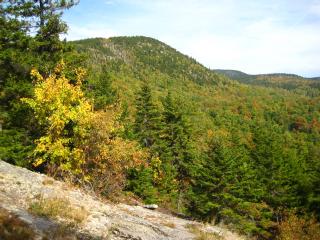 Great views along the trail.
By three hours in, I'd crossed Wocket Ledge, dropped to Paige Pond, and traversed the Trident, all familiar and glorious. I'd been out of food for an hour now and was starting to bonk pretty hard. The climb up Cascade Mountain (which somehow I'd forgotten about since my previous traverses of the Mahoosucs) was brutal and hot and I was definitely looking forward to being done. I slouched through the wooded saddle east of Cascade, humped most of the way to the bald summit of Mt. Hayes, and finally started the three mile descent to the Hogan Road. I was far enough behind schedule by the time I reached the Hogan Road that I was just as happy to see my father coming to pick me up as soon as I hit pavement.


The view west from Wocket Ledge is worth the effort to get there. Trident, Cascade, and Hayes in the distance, all of which I still have to traverse.
In total, I netted only 14.7 miles in 4:50. Additional calories would have definitely helped, but it would still be difficult to do this traverse in less than four hours. Despite the bonk and the slower-than-expected pace, it was a fantastic and nostalgic trip. My respect for these lowly mountains of my youth is renewed.
---
Joe's First Mountain
September 24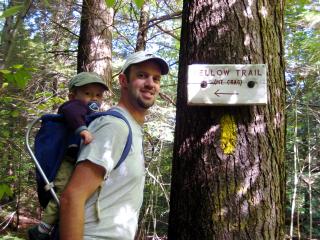 Father and son headed off up the familiar Yellow Trail.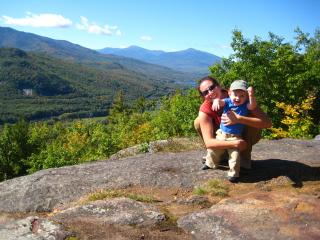 Joe is properly excited about mountains now.

Despite having gotten out quite a bit with the sub-dude this summer into the mountains, we've yet to climb to the summit of a mountain, even a very small one. How fitting that Joe's first mountain be one that I climbed a lot as a youth, the lowly but lovely Mt. Crag (1400') in northern NH! It's two hours from my parent's back door to the summit and back at a very modest pace. Still, the views are great of the Androscoggin River, the Presidentials, the Moriah's and all the lands of my youth. The weather was fantastic and Joe had a blast crawling all over the bare, rocky summit, throwing pine needles in the air, and practicing his rock climbing.