What follows is a transcription of the journal I kept during the trip. I flew from Washington, DC, to Amsterdam to spend a few days adjusting to the time zone and a 'foriegn' culture. From there I flew south on one of the twice-weekly flights to Lome. A few people have pointed out that it sounds like I didn't have a very good time. I won't lie and say that it was always fun. Occasionally, it was very definitely not fun. But it was ALWAYS facinating and definitely rates as one of the most incredible adventures of my life.... Special thanks to everyone who helped make the trip possible and enjoyable.
7-26-98 - Sunday
Again got an early start. The proprieter at my hotel likely thinks me antisocial and strange for a young guy in this city of nightlife, but nightlife for one is a depressing prospect.


Saw the Anne Franck Huis which was succinct and moving, as anticipated. Very well done with no sensationalism to it. All the while, the bells of Westerkerk--the nearby cathedral in which Rembrandt is buried in a pauper's mass grave--were booming along for 11:00 mass. Then a sunny walk along the Prinsengracht to the Wootenboot Museum--a former sand and gravel freighter converted to a houseboat--very spacious and airy, though a pretty minimal museum.


Next up to Liedesplein for lunch at an outdoor cafe--uitmeijter (out-smay-ters) and Guiness.


After lunch I walk to Museumplein and pay my 15 bits for entrance to the Rijksmuseum, home of a LOT of Renassaince Dutch art. And there is a lot of art that got created. The whole museum rotates around Rembrandt's Night Watch as it is incorrectly called. The proper name is "The Shooting Party of Captain Somebodyorother" and it's important mainly because it was the first group portrait to show people _doing_ something.


After three hours of Rembrandt, Jan Steen, ver Meer and so forth, and after running into an old college aquaintance amidst the Bruegals, I'd had enough and fled to concider my options. Wandered through the Muntsplein flower market and the Spui art market. Then the shopping hell that is Kalvertstraat. Breif rest at the hotel and then out to The Pancake Bakery on Prinsengracht for a large, filling concoction of apples, bananas and cinnamon ice cream on top of a huge, sugary crepe. Feeling fat and sassy, I wandered the rest of the way to Leidesplein and Vondeled in the Vondelpark before heading for home. But on this of all nights that I ought to sleep, I got caught up in the tragedy of "Into Thin Air" and by 4am couldn't sleep a wink...

7-27-98 - Monday

...except somehow I rocketted awake at 8:30 am very much behind schedule for my planned morning of packing and bidding adieu to creature comforts. Baggage was thrown together and I hastily bolted out the door, to the train, plane and here I am flying south approaching the Mediteranean.


So what is it I expect from Togo? I'm already surprised that the twice-weekly flight is overbooked. Undoubtedly true to form, my assumptions are based on bravado and naievity of other cultures. Lome is, after all a city of a couple hundred thousand people, and, while apparently not the center of creature comforts Amsterdam is, is not a medieval village or something from the movies. More likely a city based on CNN reports and the uncomfortable fusion of native and western ideas. Isn't that a byproduct of colonialism?
---
Now we're flying over Majorca and the sea is the exact same color as the sky. There's just a layer of assorted morphologies of clouds and a universe of air.
---
It seems very surreal; Togo has been this mythical place for many months and in a few short hours, I will be kissing the soil or whatever it is that you do upon arriving in a foriegn land. (I suppose a precedent was set when I went and stood out under the glowering sky in Amsterdam.) Right now the Sahara is passing below in an unending study in earthtones. From 33,000 it looks a lot like any other desert I've flown over--New Mexico/Utah/Arizona?--but there is a sense of this being Bigger! Lots of wadis and dunes. Occasional roads and even less often a settlement of some sort. There is a 2-runway airstrip down there. I have no experience from which to draw to help identify these features...but the map says we're bearing SSW a few hundred miles north of the dead center of Algeria over Ghardaia.
---
There are some beautiful water drainage patterns down there with tan washland tending to rusty red and greyish uplands. They're almost blue on top. Ah, and there are some actual dunes. Dunes must be one of those things which scale perfectly from river-bottom to beach to deep desert.
---
After a couple hours of hazy tan ground haze and huge thunderheads, we have emerged into the clear above the western corner of Niger near Niamey. The pilot says we are in the intertropical convergence zone and indeed our 767 seems almost stationary next to these gargantuan clouds. I see Niamey and the Niger river out the left window--very brown.
---
Over Togo now and I've identified Sawa-Kara and the nearby mountains. Lots of trees and small fires here and there.
---
Landing. Much like I expected. Palm trees. Setting sun, warm end-of-afternoon humidity. Down the ramp, out on the tarmac and following a stream of people to the terminal such as it is. Getting past visa and passport control was harrowing and very scary. EFD soon rescued me and we left, and none too soon. I am on the verge of Not Dealing Well. Taxi to the old Mamie's.


After sitting around for a while, we went off to an Italian place in an effort to cushion the culture shock. Dude, I'm in Africa!!
7-28-98 - Tuesday
My first day in Lome. Actually only day. We went off to the grande Marche, changed money, visitted the yovo-mart, and shopped till we dropped. The marche was mobbed and I lampreyed to EFD's back and ignored the people trying to sell me everything from belts to wooden things to belts to Celine Dion's latest to belts. It is the men and older children who are aggressive about it. The "Marche Mammas" are usually much better. We went to the indoor market to the inner sanctum presided over by the Nana Benze, women of impressive demeanor and attitude, where we pagne shopped. There were usually apprentice-benzes and each nana was running perhaps 20' of shop front. After haggling in Ewe down from 5000 to 2500cfa, I posess a very loud pagne. Flipflops were also procured. I seem to have larger feet than the natives judging by the sizes available.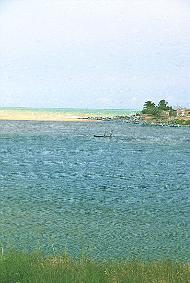 Then we headed by taxi (a toyota packed with 10 people travelling 70mph over potholed roads at breakneck speed on either side) to Aneho on the other end of the coast. Saw the water which looks transparent and lovely and very very rough--kick-your-ass surf for sure. The wave quality is apparently due to Togo's complete lack of continental shelf and the ocean winds. Lots of photos were taken and then we travelled to the Aneho marche which happens to be on Tuesday. Much easier to deal with and utilitarian than the Lome version. Much of the time was spent pointing out what things were and being very concious of being one of the only two white people in sight.


Finally back to Lome, a short nap and out for dinner at a Senegalese place downtown. Spicy and tasty and very filling.
Reactions and impression: At first things were very confusing and daunting because of the newness of everything. It's still a bit strange, no, really strange, but I've sort of learned how to react. After only one day even! Give me a few more days and I'll be better.


Some observations: Togolese at least in this area don't mind you ignoring them or being rude. Mali is the place to be. Everyone seems to be going there. It is perfectly acceptable to pee in the middle of a major intersection. Goats are small, sheep are goat-like, lizards come in all colors and sizes and are very fast, and I think I saw and agouti. People will rarely have change.


On being white: boy do I stick out! I guess there's nothing I can do about it, but I'm always gonna be obvious in a crowd. Yovos get prefferential treatment in taxis getting to sit in the relatively spacious front seat while the locals get crammed into the back. It's very strange to be sitting there chatting in English and realize there are a dozen silent people staring at the back of your head. While walking west from Aneho to the Marche, some children would say Bonsior very respectfully with a little curtsey. Though I always tried to respond pleasently with a nod of the head and smile, it still felt very much like Gone With the Wind. Perhaps I agree with certains people I've talked to about the influence of rich white people living among poor black people and the Yovosation that ensues. We shall see...


There are lots of other little thoughts going on, but everything is much too vivid for coherent contemplation right now.

7-29-98 - Wednesday

Today was the Lome to Kpalime day. We taxied to the appropriate bush taxi stand and waited around for a while--maybe an hour--while enough people and baggage showed up to fill the thing. We watched, I in amusement, as a hoard of roustabouts argued and moved large baskets about. All the time a stately Marche Mama and her several younger, slightly less stately assistants looked on and disciplined.
It's quite clear here that gender roles are almost rigid here. Women RULE the marche despite what the men may think. Girls apparently do a lot of singing/dancing/clapping games. Boys roll tires or play soccer or drive these poles with a pair of wheels around. When not harvesting something, men whack on metal with the pretense of fixing things. Women sit and watch and carry and care and suckle. I'm increasingly impressed by the power, strength and beauty of these matrons.


Anyway... the taxi was finally loaded with the Yovos in the front, the dozen other passengers in the back, a trio of hog-tied goats and the driver. All long distance drivers apparently are Kotokoli. We headed out on the glass-like Lome-Kpalime road. Newly paved, well signed and completely atypical. There were many gendarme stops where papers were checked and money changed hands. The driver was unpleased. And two stops where everybody had to pile out and walk a few hundred yards before piling back in.


The countryside was flat and pleasent and very agricultural. Many flavors of palm trees. Short, symmetrical papyas. Large-leaved, dense teaks. Tall, stately capok trees. Lots of corn. I constantly asked questions about what things were.


Upon arrival at Kpalime, we trekked the mile to Chez Therese, a SBD volunteer who was not home, then out to the marche to browse. I was introduced to fufu of the manioc variety. Very sticky and a little daunting. The sauce is tasty but the fufu itself will take some getting used to. I bought more pagnes and a scrubby. Also various food.


This marche is bustling, but very different in character. Much more pleasent. Went back, met Theresse, borrowed bikes and cycled out on the road to Kuma. Beautiful jungle and interesting scenery.
Thursday, July 30, 1998
Arose and headed out with EFD and Elli bound for Mont Agou. At 986 meters, it is the high point of Togo. Strangely it stands alone apart from the plateau and is quite imposing, despite its relatively small stature. After a slow start with breakfast and whatnot, we finally hit the trail at around 10:30 in Agou Tomegbe and were trailed by half a dozen locals with a penchant for sherpa-ing. One was especially tenacious and finally accompanied us all the way to the top and back.


The trail was steep and muddy and wound through demi-jungle cutting off the switchbacks of a freshly graded red cocoa road. Banana trees, creepers, 2 meter tall grass, insect sounds. The weather was hot and oppressive and would cause numerous problems later.