Behind us on the bus, a group of Brits tortured Spanish for a while with some youn Chilean lads discussing the relative merits of Colo-Colo (one of the ultra-popular football teams here) versus Manchester United. Very entertaining.
Finally, we rolled into Puerto Varas and everyone unloaded. A mad dash began as everyone headed off for the three hostels recommended on the Backpacking Chile list. The first two wanted $9000/person for so-so rooms. The third, Ellenhause wants only $8000 total for a double. It's a bit of a hole and Amy hates it. I rather like it but haven't visitted the bano yet where man of its faults apparently lie. Even I can see that this is not the Torre Suiza (although Beat recommended this place to us)...
This town also rubs me the wrong way, I must admit. Maybe it's vibes I pick up from Amy. More likely, it's the general Pucon-ness of the whole place. Everything is quite expensive and tourists are more common the natives. Still, the view from the gorgeous lakefront is tremendous with Osorno and Calbuco looming large over a huge, cerrulean lake stretching past the horizon. Between the two nearby volcanoes lies Vn. Tronador which I gather is ver tall and has glaciers. Also quite inactive in this day and age. To the north the low expanse of Vn. Puyehue can be seen. Puntiagudo is behind Osorno which is a shame. I'm becoming really fascinated with these mountains.
Amy wants to move. In many ways, I wish we'd kept looking longer. But is was pushing six and everyone was tired. We talked to a very helpful tourist info woman (entirely en Espanol) and whe pointed us, well, Amy mostly, at a number of places roughly twice as expensive and nice as Ellenhaus. I don't really care ove way or the toher but don't want to spend too much on the whole deal. Well see what happens. Tomorrow, rafting!
The big blue book has great maps, but doesn't give much info on the smaller towns. The again, the info about hostels and whatnot I've seen in other books tends to be pretty spotty anyhow

<!From Villarrica, we took a bus south six hours to the southern end of the Lake District. Puerto Varas is only 20km north of Puerto Montt (essentially, the end of the line) and sits on the south-western shore of Lago Llanquehue, the largest of the big lakes. It has five volcanoes on the horizon and is thus superior!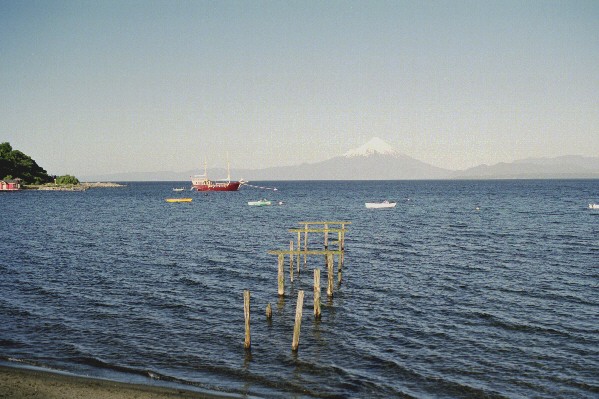 Lago Llanquihue and Volcan Osorno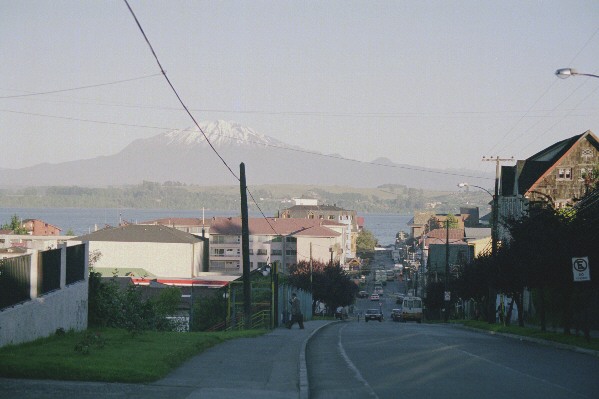 The town of Pt. Varas with Volcan Calbuco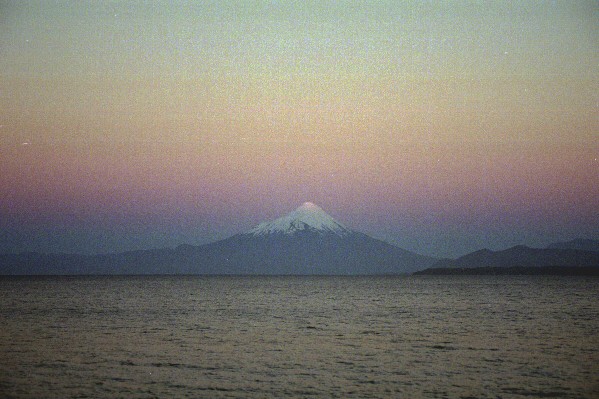 Osorno in the alpenglow. Yeah, baby!
Rafting the Petrohue
Tuesday, December 19
-- on the Pt. Varas waterfront. Well today has been a great improvement. Got up early and braved the surprisingly cold weather to find breakfast. Shops here don't generally open until at least 9, so at 8, this was not easy. Nasty cloudy weather didn't bode well for rafting But the talkative Israelli guy with access to the Weather Channel said his prediction of 20 degrees and sunny still held. Breakfast was kuchen, an omnipresent form of German cake, yummy.

Long story short, weather improved. Tranco signed us up for rafting (with Aqua Motion who was doing the rafting today) and we packed up and moved to Hostal Opapa Juan. I was sporting a farily foul yet undefined mood based on weather and the bad vibes I was getting left and right. Dunno. The appointed hour came and we assembled at Aqua Motion for the rafting.

The rafting crew included Mary, An Irish woman of middling years, the young Canadians Tracy and Chris teaching in an American school in Bolivia, ourselves and a good looking Santiago couple who's names I've unfortunately forgotten. We piled into the van, drove for a while, collected a pair of large, blue rafts, drove some more, and got out on a large expanse of black sand. the view of all available volcanoes, especially Osorno, was spectacular. What I'd thought were ski tracks turned out to be big whopping crevasses and there was a lot of scary detail up there. I now see why climbing Osorno costs $115,000 as opposed to $22,000 for Villarrica!

Everyone changed into overall-style wet suits in the hot sun and we follwed the frighteningly skinny, but very energetic Diego through the woods. Everyone took a seat on the sides of the boat and reviewed verbal commands and how to paddle. I was a little unsure of which end was going to be the front, but it ended up being the beached end. Astern, the water rolled by crystal clear, very blue and excitingly frothy.

We pushed off and turned in circles a few times getting the hang of moving the boat. As boats go, this one is a pig, but turns well and can survive most anything. Another species perfectly suited for its niche. Then the first set of rapids hit. The raft rode smoothly through though our paddling left quite a lot of room for improvement in the area of synchronization.

Overall it was an incredible experience, not so much for the actual rafting as the drifting smoothly and not-so-smoothly through some of the most amazing landscapes. Several volcanoes dominated the view at one time or another; first Osorno behind us, then Calbuco in front and puntiagudo behind. At the very end Vn. Yates was spied through a gap in some very mammalian hills. All the while a set of very steep, water sculpted non-volcanoes marched by close on our port. Tree-covered and utterly impenatrable. The water was crystal clear and quite blue. Strones and debris 10' down could be easily seen including the boulders responsible for the rapids. That was a new experience. In the flat sections, we were allowed to swim and everyone braved the bracing, racing currents. Eventually I got so fond of doing this, I would tilt right over the side scuba-style whenever we were allowed. Then everyone would haul everyone else out by the shoulders and off we'd go again. Our scout boat guy lost an oar and we brabbit it for him at one point. All in all, it didn't seem like 2 hours or 17km had passed.

A lovely lunch of sandwiches, real, rippled chips, soda, fruit and Pisco sours awaited us on a black sand beach. Wetsuits were removed and everyone stood around being social and enjoying the amazingly perfect weather... then the long sleepy ride back to town.

We returned to sit on the waterfront and do some journal writing. Stopped by a great artesanal for various soft goods and then dinner at a german diner/cafe. Amy had a vegetable platter (which is just what it sounds like) and I feasted on scrumptous Conger Eel. Chris and Tracy dropped by and joined us for a while. Nice couple. Fun to hang out with. Chris wants to fish but Tracy has put her food down about the Caballagata (horse riding). Horses it is tomorrow.

A nice evening walk on the seawall (lake wall?) and a lovely sunset. Thena walk through the wrong side of the tracks with our canine companion and a delicious bed in a very chilly room.

Amy, the well-dressed adventuress.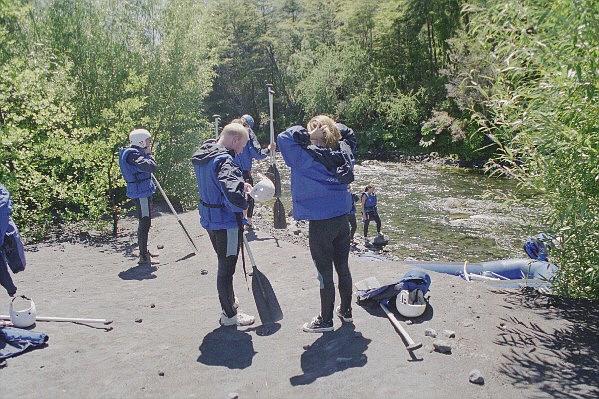 Getting the boats in the water and suiting up for battle.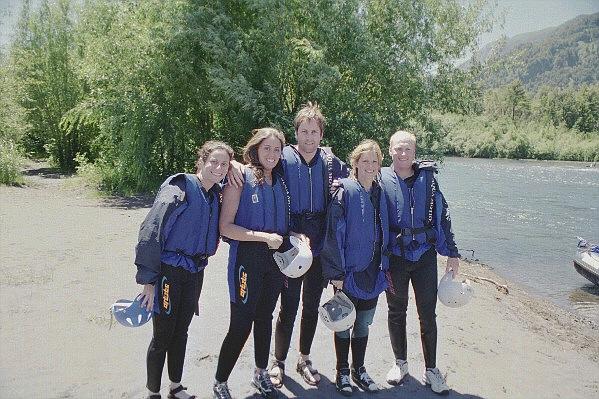 Las Touristas: Amy, the couple from Santiago who's names I didn't get, Tracy and Chris (from Canada via Bolivia).
---
P. N. Vincente Reyes Rosales (aka, Lago Todos Los Santos)
Wednesday, December 20
-- Pto Varas. OK, I really like this part of Chile! Plus, I really think we're getting the hang of Chile and travelling. It's getting fun, but it's time to go home. I miss clean shirts and my own bed. Never mind email and so forth.

It's been a day of very odd occurances that really brings home the fact that we're not in the proverbial Kansas anymore. The first was a rather sizeable earthquake that shook things up at 8:26am. There was no bdoubt what was happenning, walls moving, various odd sounds. Everyone became very awake immediately. [According to the seismic monitor, there was a magnitude 6.3 quake about 180 miles north and west at exactly the time I noted.]

We're clearly the only guests in the hotel and the large Chilean yougth who seems to run the place is always happy to see us. He doesn't look Chilean and could be between 18 and 28. Nice guy, though, as far as my Spanish will go.

Breakfast was on the table when we stumbled out at 9:30. Great little chocolate filled waffles and juice and jam, cheese, ham and breads. After a bit of waiting around at the bus stop and playing with an adorable 3 year old girl, we caught the bus to Petrohue. Not much of a town, but a hell of a location. The road ends at a dock. The dock ends in a lake and the lake ends at a whopping big range of mountains with assorted border check points. It's really the end of the world out here.

On the drive up, we passed through the same region where the rafting started yesterday. Big, blue frothy river on the right, assorted forest and such on the left. On either side of the road--and sometimes in the road--are large drifts of black sand and small stones piled much the way snow is arranged after the plow has been by. An interesting Brazillian fellow on the bus exchanged climbing lore with us but was obviously just out "picture taking" like us today.

On arrival, we wandered down to the lake and took some pics. The water is the same amazingly clear blue we had been rafting in yesterday. Unlike all the other lakes in the area, this one was formed from a river valley plugged by a lava dam not by a terminal moraine. So the walls of the lake are steep mountains and the lake is a distinct many-armed configuration instead of the roughly round shape of the other lakes in the district.

A gorgeous black sand beach littered with baseball-sized lava nuggets stretched up into the woods away from the lake. After signing in at the ranger station (and strangely not having to pay a CONAF fee) we followed this broad river of sand as it bent through the trees. After perhaps a quarter mile, we emerged into a wide moonscape uninterupted in its utter desolation all the way to the snow line far above. The slope was exponential and I realized we really were on Volcan Osorno! The last erruption was in 1850 and in the intervening 150 years, small plants, moss and occasional clumps of trees have managed to take hold in what looks like black sand but must be the volcanic ash they always talk about. Assorted other rounded, bubbly rocks as well. Were these formed as droplets of lava ejected high into the air or was there some other process? It doesn't seem like errosion could have taken place so quickly.

The view wsa so incredible I won't even try to relate it here. Wait for the pictures!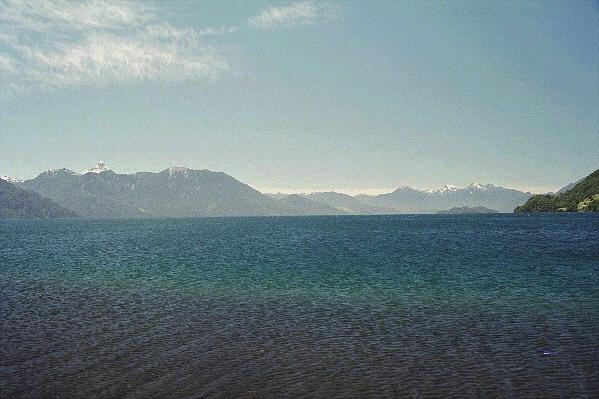 This is probably the most beautiful place I have ever been--and that is definitely saying something.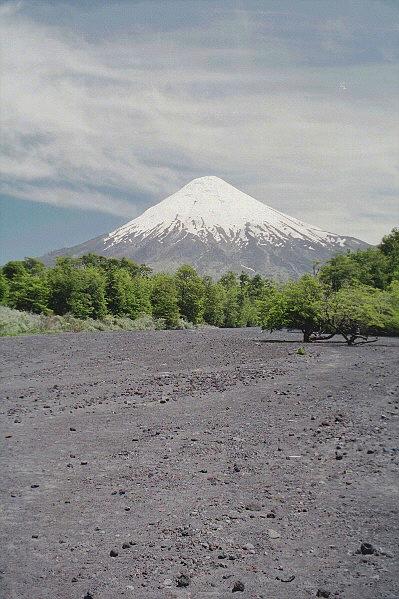 Vn. Osorno from close up. We followed this black sand 'river' through the trees and up to the ash plains at the base of the cone.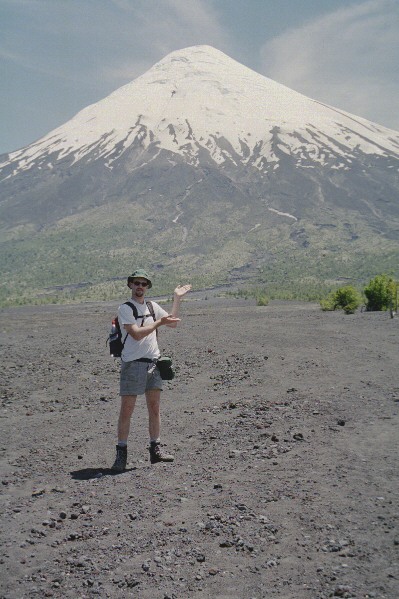 Vn. Osorno from closer up. I really want to come back here and hike farther than we could in a few short hours.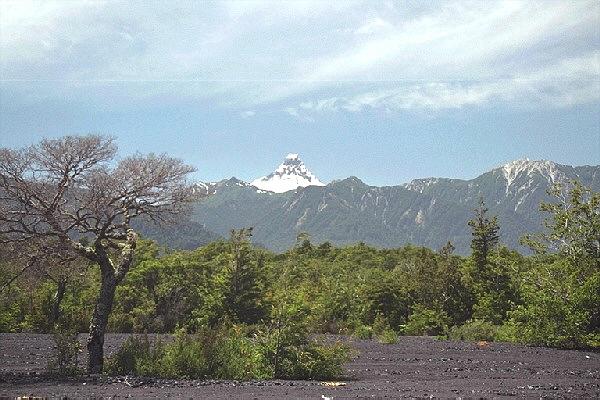 Vn. Puntiagudo is an old volcanic core.


A panorama from the ash fields near Petrohue. From left to right we have Vn. Calbuco, Vn Osorno, Vn. Puntiagudo, assorted Andes in front of Lago Todos Los Santos and the nearby mountain range. Photomosaic by GIMP.

The sun and the black sand were hot and a strong wind from the west kicked up quite a lot of wind-borene particulate. The trail on the map split off from the main moonscape and headed up towards the saddle between Osorno and the next jagged mountan over, Co. la Picado O'Caulle on the map. Three washout gullies were crossed and we bore right to head back to the lake. The trail started obviously but ended abruptly in a surprisingly lush, dense forest. Confusedly, we cut back to the SW and escaped by a verywide, deep stream bed full of sculpted lava bespeaking various ancient cataclysms of lava and more mondane fluids.

Eventually, the lovely, wide, gravel and sand beach was reached and we started back toward "town" commenting how no vacation was complete without a nice walk on the beach. Unfortunately, spirits soon sank as the beach became neither lovely nor wide and rocky, blowdown-choked hazards to dry, horizontal progress became the rule. Fighting the clock and various personal frustrations, we made it back to the bus with only minutes to spare, scratched, sore and with shoes full of gravel. Then the bus sat around for 45 minutes waiting for the ferry to arrive. Oy!

We got back to town and downed a couple of emanadas. Then showers and relaxing. Amy is quite tan and a bit red and my calves are a bit burnt although not yet painful. At dusk, we investigated the phone system and came back perplexed. Something for tomorrow...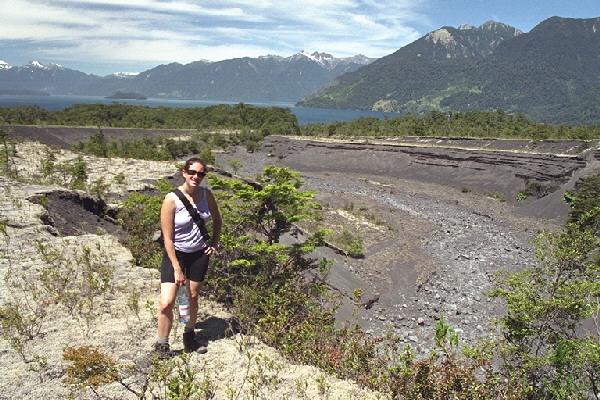 A river (of water) has carved this deep canyon down to the lake. You can see the different layers of ash in the cut. Everything is very hot and dusty.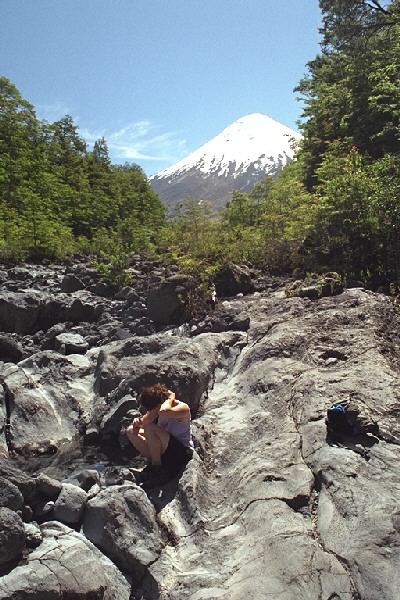 And the river bed is the best place to hike. Water has washed away everything but the solid, smooth lava seen here.

Back down at the lake, the soil washed out from under this tree leaving a startling tap root and a roof of surface roots overhead.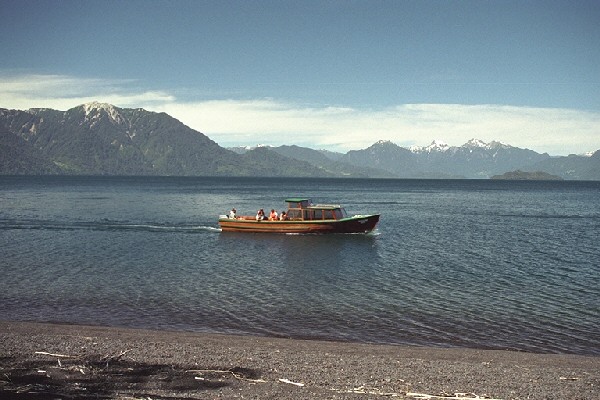 One of many small charter boats on Lago Todos Los Santos.
---
Puerto Montt
Thursday, December 21
Well, the longest day is just ending and the sunset (at 9:30 pm) is making the sky a nice orange and red. Now for the shortest night, all of which will be spent travelling in Salon Cama style on our brand-spanking-new Tur-Bus. The trip is ending and we've started the long process of returning to the north and winter. We've been phenomenally lucky weatherwise. My ragin sunburn bespeaks the sunny days--today was the first cloudy one since Villarica, but even it cleared up after lunch.

More luck was had with the phone this morning and a bus to Pto Montt was caught after perhaps 11 seconds of waiting. We had our bags packed and waiting back at Opapa Juan for our return

Puerto Montt was not a very interesting town though it provided the same kind of glimpse into real, non-touristy Chile that exists in LaSerena. similar towns in atitude if not in look. We hiked down the hill and to the harbor through a classic market full of crates of tomatoes and sliced open fish. Also big bundles of dried, wadded up kelp that looks like squid parts--I've got to figure out what you do with the stuff.

The city is a bit smelly and dirty compared with other places I've been, though certainly not the worst. Under the seawall where we perched lay the rotting remains of a dead dog-sized creature. A circus was setting up shop complete with the cars full of monkeys and tigers in cages. We wandered the streets and a mall for a while, and had a mayo-heavy lunch at this place called the Oasis, but couldn't find much to keep us in Pto Montt.

The view from the harbor seawall was very nice. A large, white cruise ship and a grey coastguard-type boat graced a view of islands, steep mountains on the east and low coastline to the west and big puffy clouds. Quite lovely, but no tthat interesting. Back to Pto Varas and the first leg of our retreat from the south. Lowest latitude reached 41 degrees 25 minutes, mas o menos.

Back in Pto. Varas we wandered aimlessly about and sat by the water. Amy did some writing while I consulted on the construction of a fine sand dam across the exit of a storm sewar. Amy also held court with the local dogs. She is a real softy when it comes to them which means we're always being followed by at least one stray looking for foot and attention. Today's stray had some sort of nervous disorder and his rear right leg hung atrophied and useless. Really a shame, but what can you do?

We ascended Cerro Phillipi to see the city and then descended to reclaim the baggage. Having run out of short-term things to do in Puerto Varas, we sat and waited for two hours at the bus stop while a pair of lads unpacked and eagerly put together a recently arrived Honda motorcycle. Perhaps their names are Ernesto and Eduardo? One can only hope....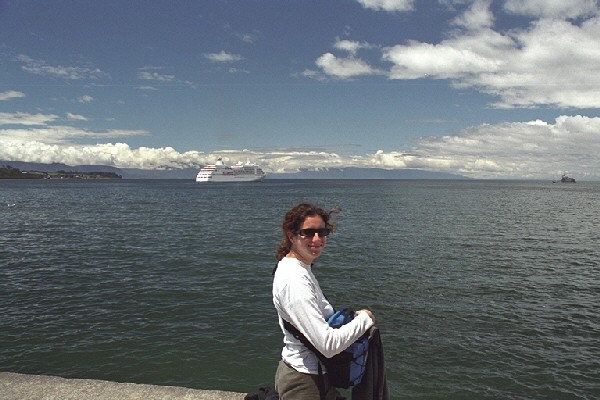 The summer solstice and our farthest south point!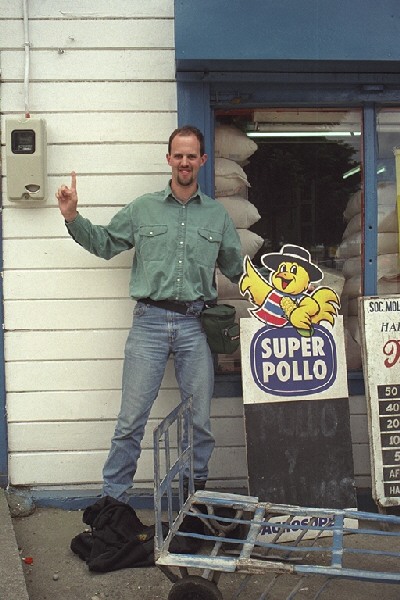 "No Hay Pollo Como Super Pollo!"

Now here we are rolling north in Salon Cama luxury. The going is slow since there is so much construction--I've yet to see one section of the Pan Americana where one side or the other wasn't closed for some reason. Thus one lane of traffic in each direction. Glad I'm not driving. Furthermore, our bus features an alarm that goes off if we exceed 100 km/hr which seems pretty slow for these roads. Oh well, time to recline and snooze.
---
Friday, December 22
--SCL, taxiing for takeoff. And so it comes to a close with exciting sounding notices about using seat cushions as flotation devices and stern warnings (in two languages) about tampering with smoke detectors. Goodby South America, it's been a time!

It's quite startling to see the transition from the south to the north. After a relatively good night's sleep and poking the snoring guy behind me a few times, I awoke to barren, scrubby hills like you see around La Serena. The forests and lush fields of the south seemed so normal to me, I began to take them for granted. A light breakfast (very light, planes win over Alon Cama on the food aspect if nothing else) was distributed in styrofoam pods and we rolled into the smoggy, smelly capitol. We rushed around on the metro, got briefly lost, and got to Mark's place at quart to 10. Catching up was done, our extremely sunburnt vissages commented on, and boots taken off. International calling proved too much for the mott family and our skill with calling cards. At last, we showered and set out to tie up loose ends in country. It's definitely time to go home and the subtle alienness of a Pizza Hut lunch only served to emphasize the fact. With a roaring case of hiccups, we climbed the beautiful, heavily landscaped Cerro Santa Lucia which seems to be a continuous series of fanciful battlements and gardens. Boy, if I'd had something like this growing up... wow! Good views too.

Below the cerro was the mother of all artesenals at which many goods were bought. Amy picked out a nice Lapiz ring as I'd promissed her and other soft goods were bought. Nice to be done the Christmas shopping. And not a moment too soon given that it's three days before... and in the high 80s. Back to Tobalaba, some food shopping (all liquids, strangely) and back to to 3069 Callao. Packing, a fairly stressless Metro ride, a $6000 taxi ride, the usual airport hurriedness and here I am on the plane headed north. All told I'll be travelling from 41o25' south to 44o30' north in something less than 48 hours which must be some sort of record. Certainly it will be a shock to go from summer into winter so quickly and to have the Christmas season compressed into about a day. I wonder if any disorders might result? Already, it's strange to deal with people who speak English and I find myself automatically responding in Spanish to the stewardesses and such. This may be hard to get used to.

Well, they've loaded me up with liquor and red meat. Time to sleep it off and accumulate some frequent flier miles...
---
BACK to Villarrica ||
---
Charles Danforth Last modified: Fri Jul 20 14:19:42 EDT 2001