Joseph Pierce Danforth
Now that I'm a daddy, I'd be remiss if I didn't have a big on-line baby photo album. We've taken a ton of photos and it's tempting to put up a couple hundred of them. But I promiss, I'll try to put up only the really cute/funny/interesting ones, keeping the baby's-first-sneeze pictures to a minimum. I'll also go in reverse-chronological order, so the new stuff will always be near the top.
Photos from December 2008 -- February 2009
---
Swimming
Joe took his first swim at the Louisville Rec Center baby pool. He wasn't quite sure what to make of it, but had a lot of fun kicking in the water and watching the big kids swimming around.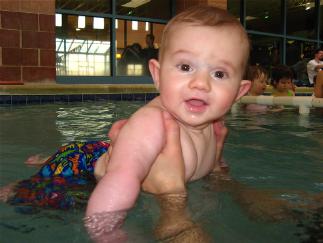 ---
Favorite Toys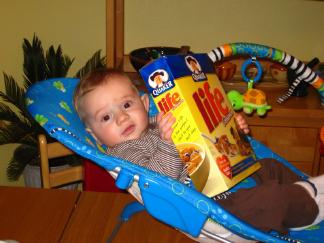 Joe is definitely pro-Life.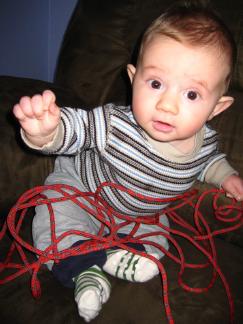 Ropes are fun too. Mom and Dad think this is a good sign.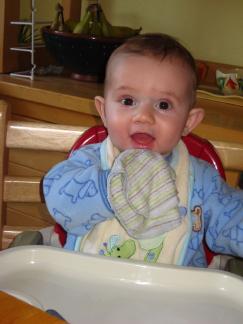 Anything to chew on, of course.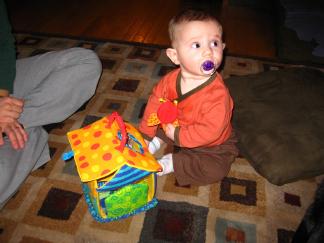 The birdhouse!
---
Cool or Cute, I can do either
---
Hiking
Joe is big enough now (mostly) to fit in his kid carrier. The day was nice, so we decided to take a short hike in the Flatirons. Joe was unimpressed. Also, check out the nifty baby-viewing gizmo that Charles invented.
---
Bottles
Joe is fascinated with anything on the table, particularly bottles and glasses. His, mine, yours, it doesn't matter. We think he might grow up to be a bartender. Or a wino.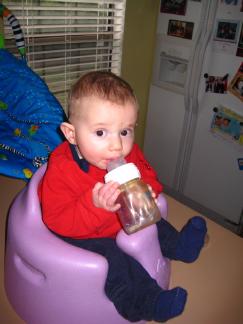 He knows what these are for, even if he can't quite hold them properly yet.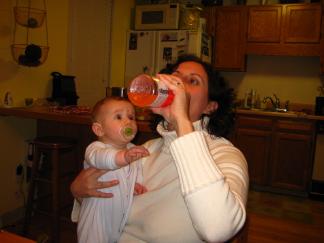 What's in Mom's bottle?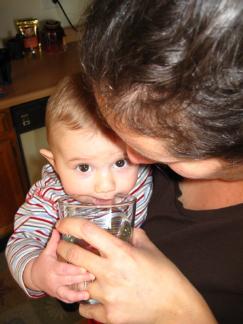 Don't look so guilty, buddy!
---
Ready for Adventure
Like his parents, Joe is eager to head out for adventures.
| | |
| --- | --- |
| Maybe I'll just let Mom do all the work. | Or maybe I'll go to California with Dad. |
---
Oral Phase
Everything goes in the mouth.
| | |
| --- | --- |
| Joe is okay with the concept of spoons... | ...but not okay with the use there-of. |
---
Baby's First Christmas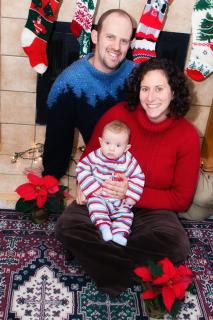 Our Christmas Card photo, courtesy of Mike Olson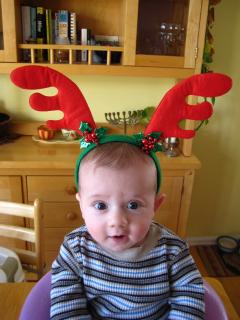 Some holiday traditions Joe embraces without complaint.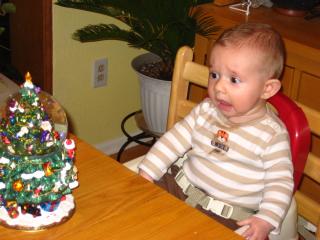 Others cause a bit of terror.

Joe and Dad opening stockings.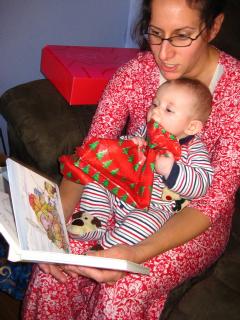 Tacky the Penguin is all well-and-good, but the wrapping paper is where the real action is.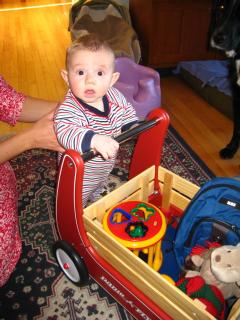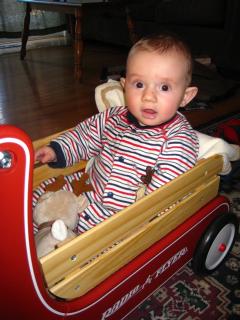 He's a little young for it yet, but we couldn't resist getting Joe a wagon.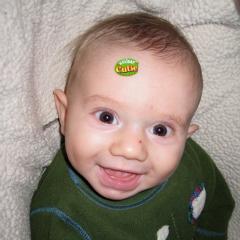 Just like the sticker says...
---
Miscellaneous Cuteness - December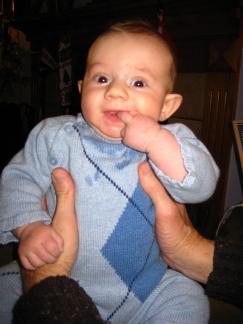 Plotting world domination?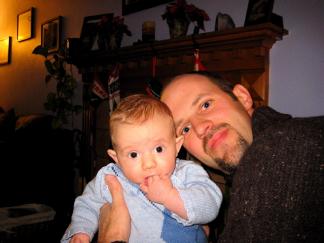 ---
Charles Danforth Last modified: Sat Feb 21 10:44:32 MST 2009