Joseph Pierce Danforth
Now that I'm a daddy, I'd be remiss if I didn't have a big on-line baby photo album. We've taken a ton of photos and it's tempting to put up a couple hundred of them. But I promiss, I'll try to put up only the really cute/funny/interesting ones, keeping the baby's-first-sneeze pictures to a minimum. I'll also go in reverse-chronological order, so the new stuff will always be near the top.
Photos from Feb-July, 2009
---
June and July
Summertime! Mobility! Adventure! We've been getting Joe comfortable in the great outdoors as he rounds out his first year. The big news is that we've gone hiking a couple of times and even managed to go rock climbing! This makes everyone happy (especially Luna).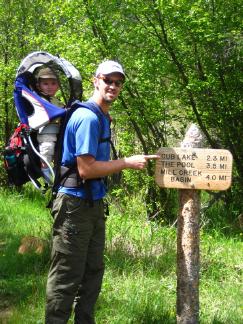 Our first real hike; 7 miles in RMNP.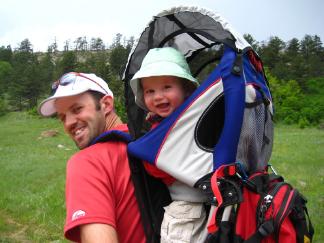 Making Dad do all the work.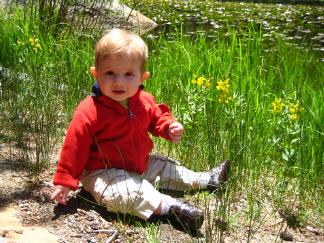 The Cub at Cub Lake.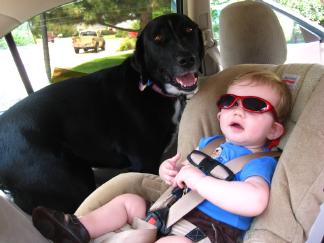 Family outing!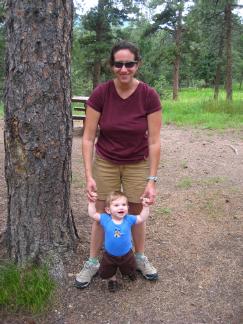 Hiking with Mom on Flagstaff Mtn.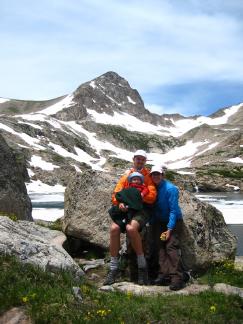 Another family outing: Blue Lake in the Indian Peaks Wilderness.
Closer to home, Joe has been pushing the boundaries of mobility and getting into stuff. He's not quite walking, but it's only a matter of time. Did I mention he's also cuter than ever?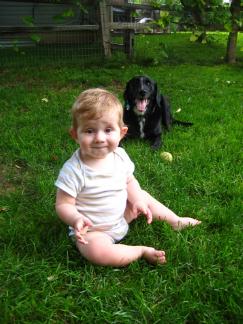 Playing with Luna on the lawn.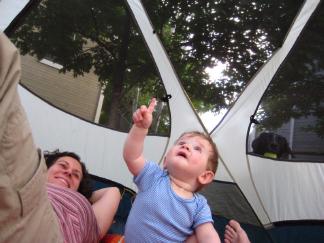 Camping practice. Joe thinks it's pretty in tents.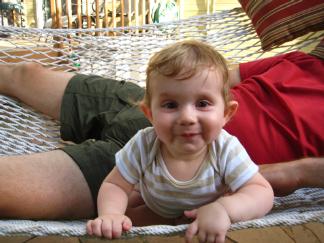 Hammock time with Dad.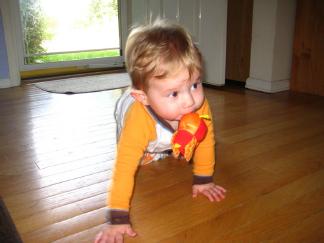 He does this a lot. We have no idea why. Perhaps he's a cat.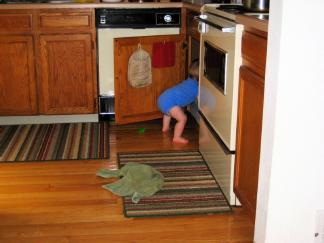 Joe loves to explore the cabinets. Yes, we have the dangerous stuff locked up.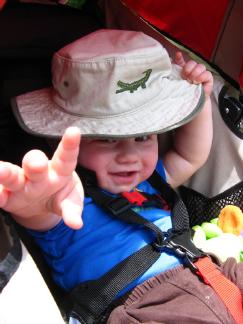 What up, yo?
---
May
"M" is for "May" as well as "Mobility". In the space of a week, Joe has put together all the elements he spent last month practicing and is now unstoppable! Look out world! He's fast, fearless, surprisingly strong, and gets into everything.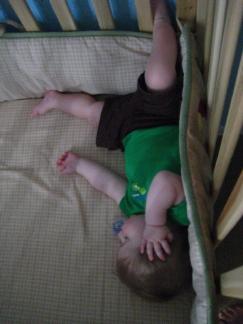 Adventures in sleeping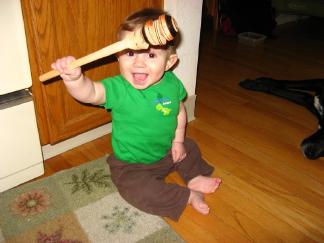 Magic wand or mace?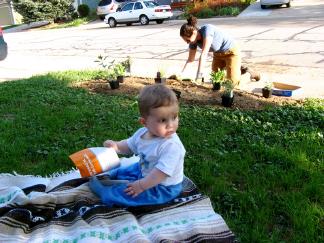 Joe eats the mail while Amy plants the xeric garden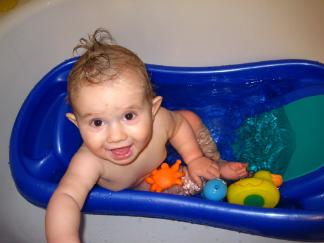 Climbing out of the tub is a real possibility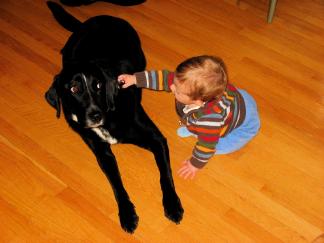 Another downside to mobility, at least as far as Luna is concerned.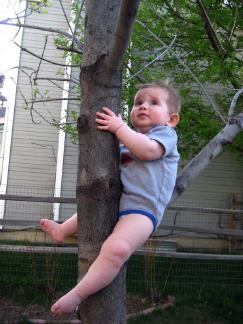 No, he's not that mobile (yet)!
---
April
April was a month for scooting and strength building. Joe clearly wants to go in the worst way, but can't quite put all the motions together... yet.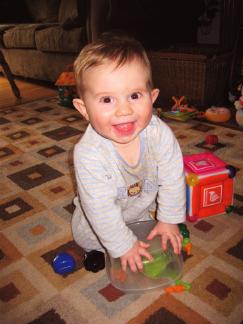 Tupperware make good traps for stuffed tree frogs.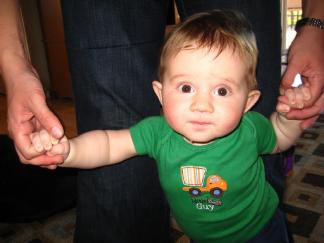 Walking, sort of.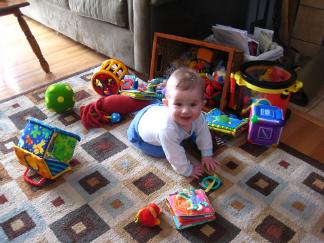 Tipping over the toy bin was a favorite trick this month.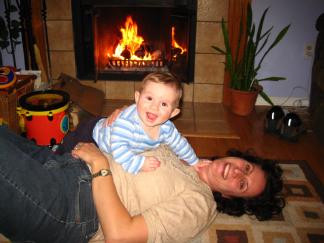 Climbing on Mom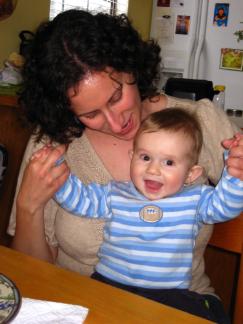 It's Mom's birthday! Hurray!
---
March
This month featured a nice visit from Grandma and Grandpa D. He's changed a lot since last time they came out!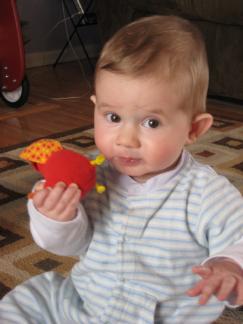 Joe's favorite bird.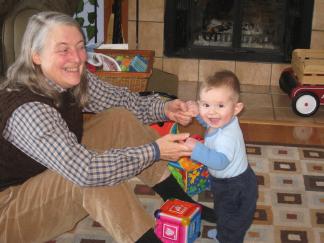 Playing with Grandma.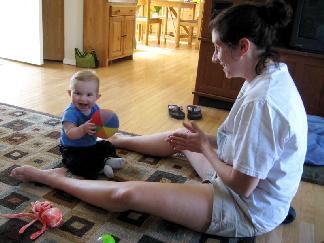 He's not actually throwing and catching yet, but he's sure having fun.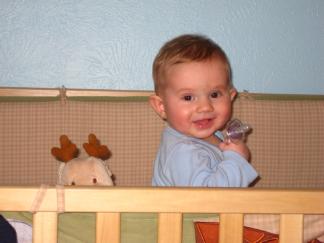 So, do you come here often?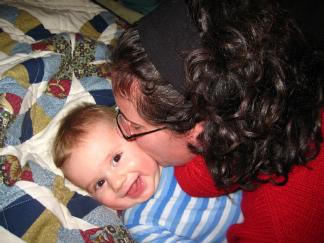 Attack of the Ticklemonster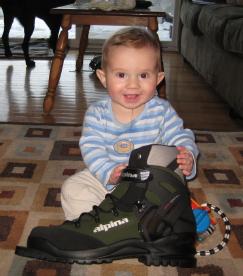 Joe models the latest in XC ski hardware.
---
February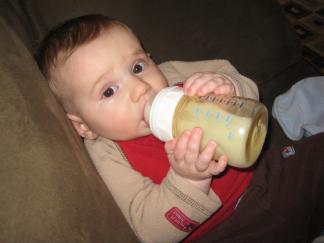 So he can apparently hold his own bottle now...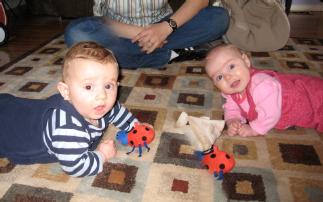 Playdate with creche-mate Tenley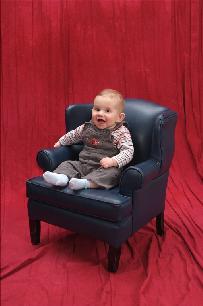 Songs from the Big Chair.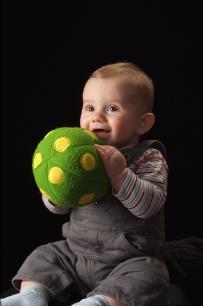 Having a ball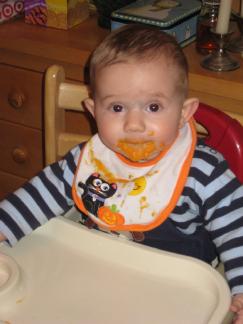 Having sweet potato. Or maybe squash. Or maybe apple sauce mixed with something.
---
Charles Danforth Last modified: Thu Jul 23 15:53:19 MDT 2009